We don't usually have your traditional Thanksgiving, my family has been doing Sugar Cane Grinds for decades at least 200 years. we went down to Brunswick on Wednesday I took Christie and the kids over to St. Simons Island, where we walked on the beach and enjoyed the view.  We stayed on SSI for a good hour and then headed over the Sidney Lanier Bridge showing the kids the ocean and Brunswick. After giving them the tour we headed back to the hotel where the kids went swimming and we waited for the rest of my family to show up.
Around 6pm we got ready to go over to The Millhouse SteakHouse and have dinner with family a total of 19 people coming into have dinner was a riot. After dinner we headed over to The Strike Zone for our Annual Thanksgiving Eve Bowling Tournament. We end up usually closing the place down. If you don't make it into town by dinner time you can always go to the bowling alley and meet up there. It's always a competition on who is going to win between Noel and myself.
This year we had a guest at the bowling alley that is part of the family but yet we had never met. Rick Wainright came down from S.C. and spent the weekend with us. It was great learning and hearing about family.
On Thursday morning we were told that the Cane Grind was going to start about 7:30am we got up and headed to Brantley County.  Dawson, Tyler, & myself went straight to work as soon as we go there. We started  feeding the mill with sugar cane and I was giving the history on when my dad was a kid and how they used a mule or horse to turn the sweep and didn't use a tractor like we use today. 
Feeding the mill was a great time for me seeing the boys feeding the mill brought back memories of when I was a kid and it was great to share that history with them. Once we were done with getting the juice out of the cane we started to cook the juice to make syrup which takes about 4-5 hours. While we waited we went down to Knox Cemetery to go and visit my family that has passed away, This is the first time that I have been to the cemetery with the kids, I also enjoyed explaining the history of their relatives. When we got done visiting the cemetery Aubree-Anna wanted to drive back to the cane grind so she did.
After we got back we had dinner and the syrup was just about done so getting the kids inside wasn't a problem it was the wait. After getting the candy I learned that the kids were not to fond of the candy which I guess was good because that meant more for me. In all Thanksgiving day was great for me I love being able to share my family history with my family. After the syrup was done and bottled that's when we sat around and told old stories about past cane grinds. I could sit all day and listen to that stuff.
We then headed back to Brunswick and went with my parents and Rick to have dinner at Denny's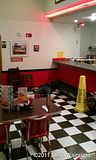 and little to our surprise we were going to be right in the middle of "Occupy Denny's" for some unknown reason they had someone that had been at the restaurant for the past 24 hours and enjoying the corner for resting up and sleeping. The part that I don't understand is that when we asked the manager her reply was " I'm not sure what to do" . So I'm paying $80 a night I have no WiFi in my room why don't I just bring the family to Denny's and get free room & board plus WiFi. Other than that we enjoyed our time talking and having a good time once again with family.
On Friday morning I learned that 5 comes twice in a day as Fred, Noel, & Robert Todd had invited Dawson, Tyler, and myself to go hunting with them. We met up at the Waffle house as any good hunter should do ate and headed out to the Hunting Club. I've never been hunting a day in my life so I wasn't really sure what I was suppose to do, but I learned real quick. After getting everything set and finally getting the dogs out we got into place after about 2 hours of waiting for the dogs we got word that it was time to go so Robert & I moved to another location and Noel & Tyler  were to our left and the dogs were going crazy about that time it sounded like WW3 Tyler & Noel had started shooting and they got the deer not just a deer an 8 point buck.
Tyler I think was in shock because he didn't believe what had just happened. We stayed out there all day and I had such a great time hunting although I didn't get to shoot anything just being out there was the greatest. I'm already to go back to go hunting again.
All in all the past four days were very enjoyable. I love being able to spend time with family & friends with not a care in the world.
---